Truly Manamit: Bacolod Restaurants Making a Difference
Bacolod is brimming with numerous homegrown cafés and restaurants that cater to the discriminating taste of locals and tourists alike. But a few of these businesses have taken a step forward trying to make a difference in the community. Find out which restaurants are not only manamit in the food they create but also in transforming the local dining scene today.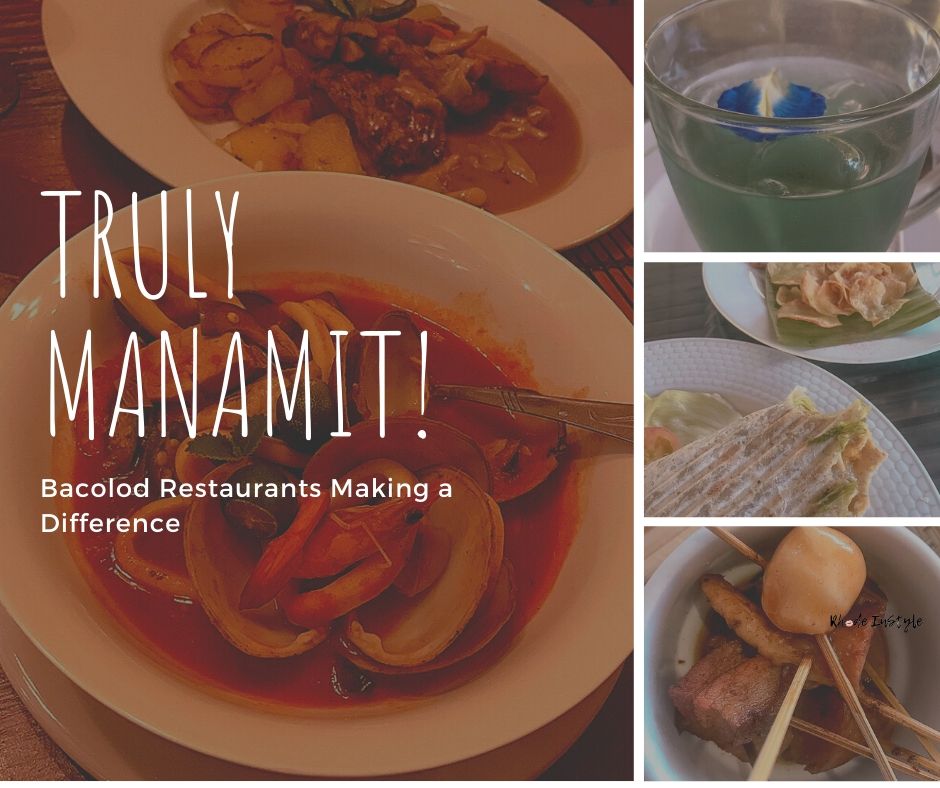 Bacolod City: Every Food Lover's Nirvana
People in Bacolod City love to eat. In fact, everyone loves to enjoy good food so much that the number of restaurants and food businesses around the city have multiplied rapidly over the years to answer the gastronomic demands of the Bacolodnons and tourists coming in to the City of Smiles.
In the city's main thoroughfare alone, Lacson Street, you will find each side of the road lined up with many eating places that serve different types of cuisine. Whether you're looking for Italian, Japanese, Korean, Mexican, or the famous Bacolod chicken inasal as well as other local favourites, you'll find everything your palate is craving for easily accessible.
It is no doubt that the capital city of Negros Occidental is a paradise for every foodie. Food in Bacolod is remarkably manamit that people travel all the way to this part of the world just to experience the food. I remember one of my friends from Cebu who booked a flight to Bacolod and stayed for three days with nothing in the itinerary but pure food trip! I asked her if she'd like me to bring her around. She said no unless I was referring to Bacolod restaurants or hole-in-the-wall establishments that'd make her appreciate the local cuisine more. What a trip that one was!
The Rise of Socially Conscious Restaurants in Bacolod
Bacolod is not only home to delicious food but is also a young host to restaurants that are doing their share in making this world a better place. These business have heeded the call for sustainability and inclusion, setting an example to other restaurants who are aware of global social and ecological issues but are not yet ready to start their initiatives.
It's good to see restaurants in Bacolod adapting best practices to minimise their carbon footprint and strive to help out the community. Three local restaurants caught my attention all for the causes that they are advocating.
1) Wander & Wonder Art Café
Door 7, LOC Residences, 11th St., Corner Top's Road (42.62 km) 6100 Bacolod City
Phone: (034) 704 0014
Open: Mondays to Saturdays, 8AM to 6PM
Initially designed to be the go-to of art and travel enthusiasts,Wander & Wonder Art Café aka WAW Art Café  has gone a long way from being a simple hangout and snack place. It has become an advocate for healthy eating, having launched its own series of DIY Keto Meals.
Not only that. WAW Art Café regularly holds various workshops in its humble space, allowing others to explore new hobbies and income-generating ventures like brush pen calligraphy, soap making, chest rub making, and even vlogging.
And it seems like the founders and friends of WAW Art Café don't plan to stop doing useful deeds anytime soon. For its Camp for a Cause event this December, they are requesting their patrons and customers to give stuff toys, dolls, shoes, and clothes that they can distribute to the indigenous kids of Sitio Nabu-ac, Brgy. Santol, in the municipality of Binalbagan.
If you want to be updated with their upcoming workshops and events, you can follow Wander & Wonder Art Café on Facebook: https://web.facebook.com/wawartcafe/.
2) Wala Usik: Tiangge + Kapehan
Door 6 Teresa Bldg. Mandalagan (44.73 km), Bacolod City
Phone: 0917 303 3747
Open: Mondays to Saturdays, 10AM – 7PM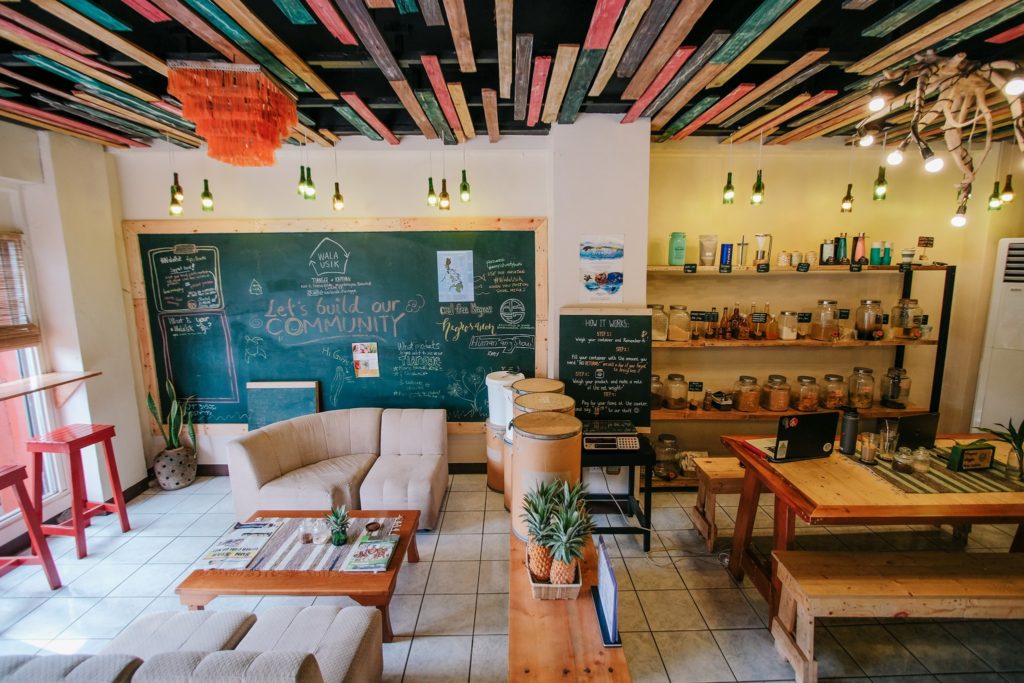 If Bacolod restaurants have a queen of zero-waste movement, the throne will definitely go to Wala Usik: Tiangge + Kapehan. They serve their food using reusable, more environment-friendly utensils and encourage customers to bring their own reusable bottles in an effort to reduce waste.
The people behind Wala Usik are purveyors of food and other consumer goods that are sourced sustainably and are healthier than what we're used to. Take for instance this adlai grains, a healthier alternative to the usual rice which is not only delicious but also a good source of  carbohydrates for people with diabetes.
When you enter Wala Usik, expect your coffee time to be met with intelligent conversations with passionate individuals who are advocates of the circular economy. If you're lucky, you can even walk in to one of their Innovation Labs sessions where like-minded people brainstorm and develop ideas with the common goal of creating zero-waste enterprises around Negros.
3) Welcome Home Foundation's Natural Garden Cafe
Kametal Rd, Mandalagan, Bacolod City
Phone: 0995 621 4750
Open: Mondays to Fridays, 10AM – 5PM
Natural Garden Café follows the principles of sustainability in its operation. The dishes they serve use ingredients grown in Welcome Home Foundation's very own garden and are sourced from small farms nearby. They are advocates of healthy eating so everything they prepare are low fat, low sugar, and low salt, perfect for those who are becoming conscious of their fitness and health.
The café  also promotes inclusion by having a team of people with special needs operate both in the front line and in the kitchen. Since their menu comes with sign language basics, customers will be able to place their order smoothly as well as interact with with the deaf staff who are enthusiastic and attentive to all diners.
How the café was built is also impressive. The flooring is made of stones; the dining area is al fresco, eliminating the need for air conditioning units and electric fans for ventilation.  Every corner of the place is designed to be sustainable, energy efficient, and eco-friendly. You have to visit the place to see for yourself.
The best part is: by dining at Natural Garden Café, you're also helping out Welcome Home Foundation sustain the livelihood of their deaf team members.
The Future of Bacolod's dining scene
With the existence of the Bacolod restaurants referred above, it is clear to see that businesses are becoming more conscious and responsive to global issues of climate change, diminishing natural resources, and worsening carbon footprint. In the coming years, I can sense that more and more establishments will adapt the initiatives taken by WAW Art Cafe, Wala Usik, and Natural Garden Café. With the help of the LGU, policies and support strategies must be created in order to help restaurants make the transition into more inclusive and sustainable enterprises. Aaaah, that would even be more manamit!
---