Cheap Flights to Bacolod: AirAsia Now Flies to the City of Smiles


If you can recall earlier this year, local executive officials from Negros Occidental joined forces to call on additional airlines to fly to the city and offer cheap flights to Bacolod. With only Cebu Pacific and Philippine Airlines flying to Bacolod-Silay International Airport, airfare were always expensive, leaving economy passengers with no other choice.
Bacolod City Mayor Bing Leonardia requested Rep. Mikee Romero of 1-Pacman Party List who is also AirAsia Philippines' vice chairman to make the budget airline available for the Negrenses. And now, a few months later, we're greeted with this great news.
AirAsia will now fly the MNL-BCD route!
Starting October 27, 2019, just in time for the highlight of the 2019 MassKara Festival, AirAsia will start flying to Bacolod City three times a day from the Ninoy Aquino International Airport. This newest route will usher a healthier competition among airlines, which will hopefully bring down airfare prices of Cebu Pacific and Philippine Airlines.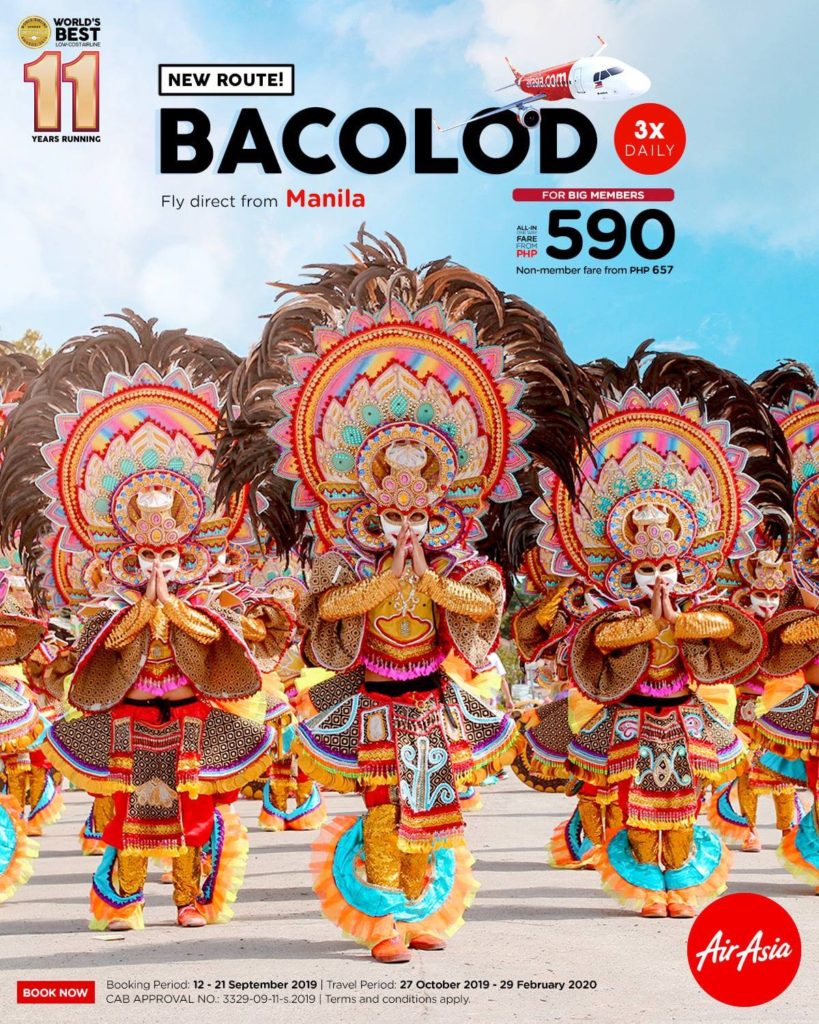 MNL-BCD airfare for as low as PHP590
To celebrate the budget airline's entry to the Bacolod-Silay International Airport, AirAsia is offering an introductory promo fare. For as low as Php590, BIG Members can fly to the City of Smiles and join the merrymaking in this one-way, all-in fare. Non-members, on the other hand, can still enjoy low fares starting from Php 657.
This super low fare can be enjoyed for travels beginning October 27, 2019 up to February 29, 2020 and can be booked starting today (September 12, 2019) up to September 21, 2019.
Now, let's try to book for a roundtrip MNL-BCD flight for October 27 – 31, 2019.
Without logging in using my BIG Loyalty membership, AirAsia showed Php1,157.20 as the lowest fare for October 27 from Manila to Bacolod. The Bacolod-Manila fare for October 31, on the other hand, was at Php1,172.20. In total, a MNL-BCD-MNL roundtrip flight would cost Php2,329.40.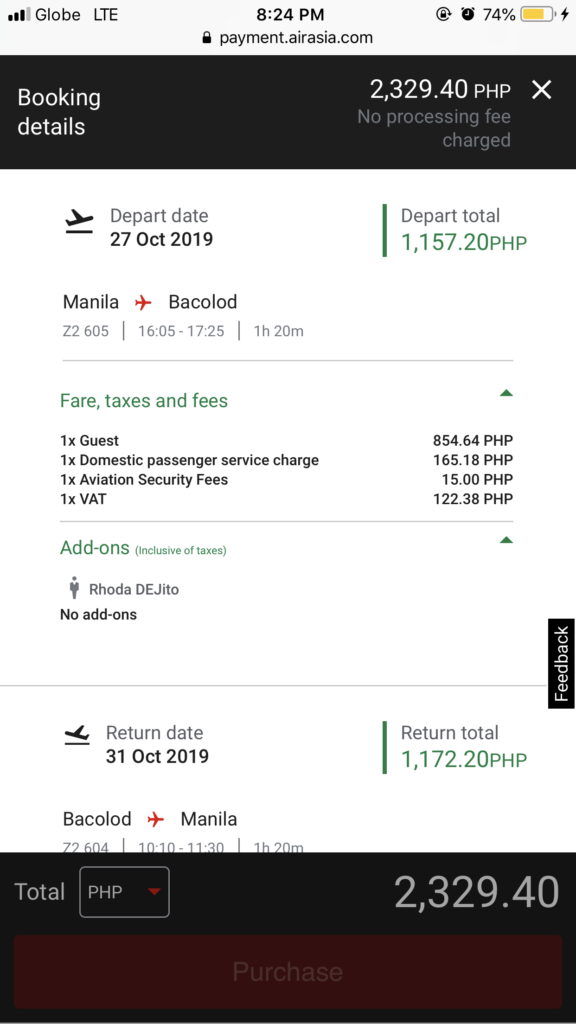 If you will notice, the Php 657 non-member fee is nowhere to be found. Instead, I got a base fare of Php 854.64 and the rest of the total fare accounted for service charges and taxes.
Now, this time I logged in and used my BIG Loyalty membership to book a roundtrip flight from Manila to Bacolod. 
Now, you can see the lowest MNL-BCD airfare costs Php 1,090.00 for October 27 and the cheapest BCD-MNL flight costs Php1,105.00 for October 31.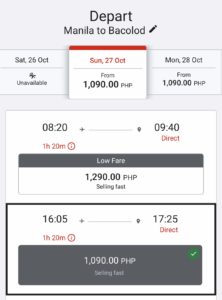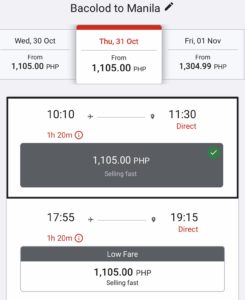 In total, the roundtrip ticket costs Php 2,195.00 or Php 134.40 less than the total cost of a non-member ticket. Apparently, members get a domestic passenger service charge discount of Php 60. But take note that the said service charge differs for members (Php 178.57) and non-members (Php 165.18) so I dunno.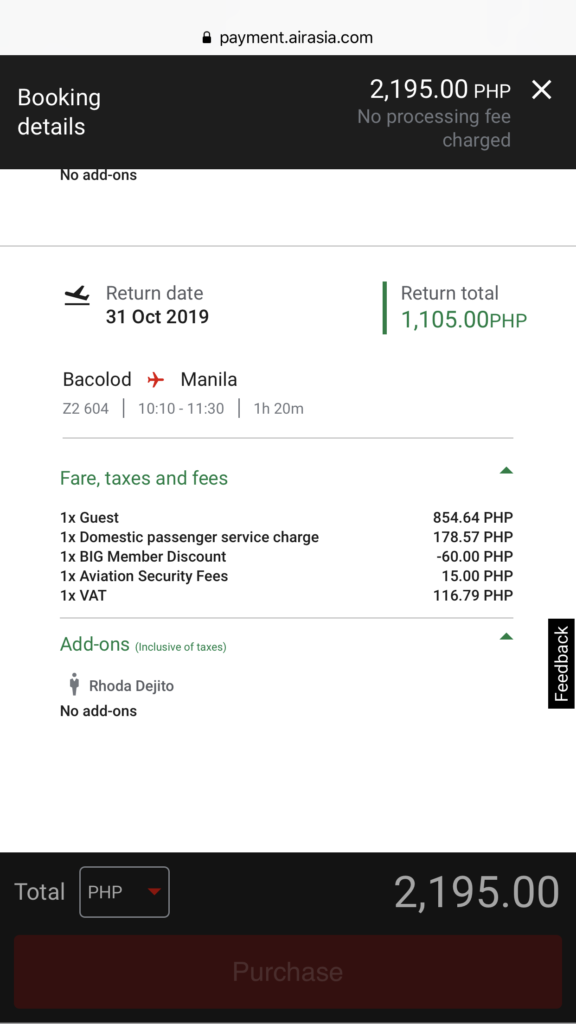 But anyway, unless you're looking at buying an in-flight snack for the hundred-peso savings, there's really no significant difference between the two airfares, at least for me. Perhaps the only advantage of being a BIG Loyalty member is the ability to accumulate points and the privilege of booking promo flights ahead of non-members.
On an average, with Airasia, you can get a roundtrip MNL-BCD-MNL ticket for Php 2,000.00 only. With that amount only a one-way ticket if used with the other two airlines, AirAsia still provides the cheapest flight to Bacolod and back to Manila.
To book your tickets, go to https://www.airasia.com or download the AirAsia App via Google Play and the Apple App Store.
---