Climbing Mt. Kanlaon: How to Get to Canlaon City
The City of Canlaon in Negros Oriental, Central Visayas, is the primary gateway to Mt. Kanlaon, the highest point in the Visayas and the ninth highest peak in the Philippines with an elevation of 8,087 ft above sea level.
Learn about this small city nestled in the mountains and find out how to get to Canlaon City.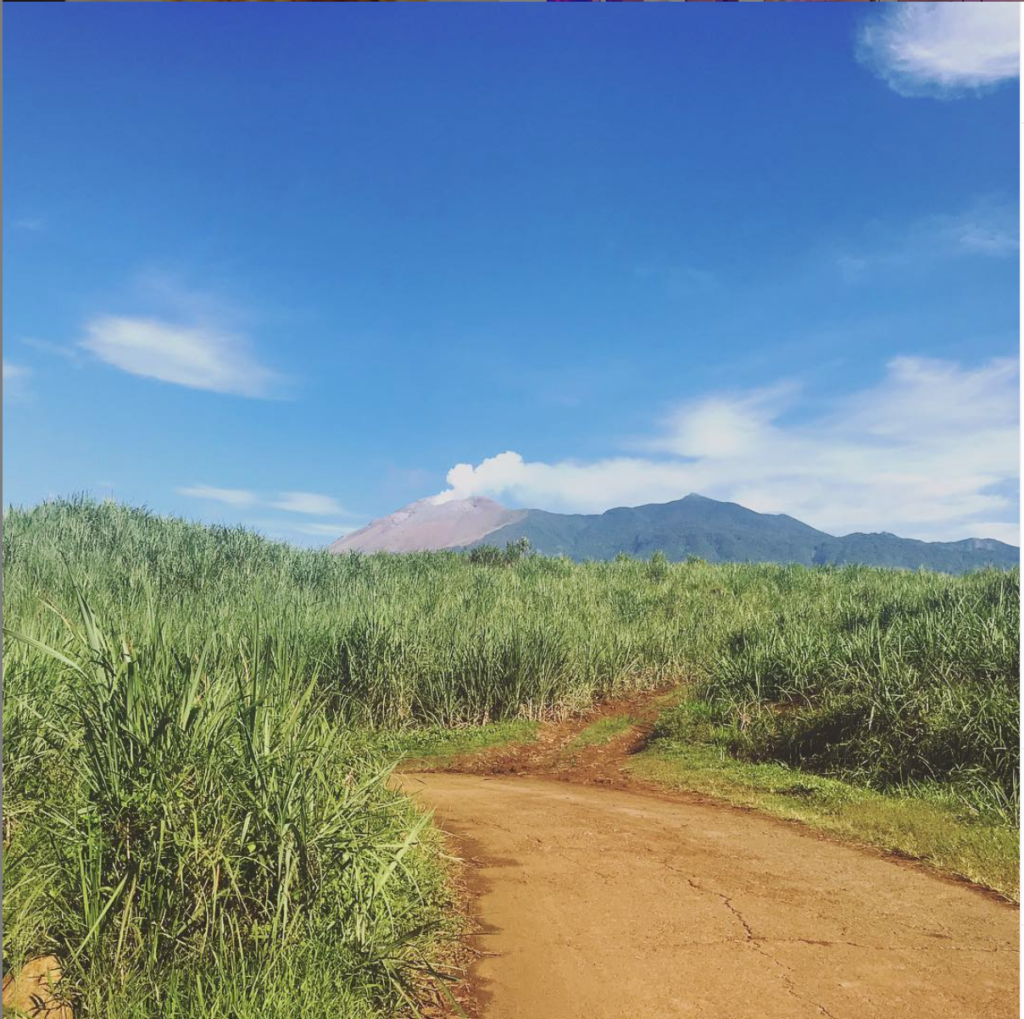 Canlaon City Fast Facts
City Classification: A fourth-class city with agriculture as the main source of income
Land area: 16,662.5900 hectares
Boundary: North by San Carlos City, Negros Occidental; South by Guihulngan City, Negros Oriental; East by Vallehermoso, Negros Oriental; and West by the Municipalities of La Castellana and Pontevedra, Negros Occidental.
Population: 54,509, according to the 2015 census
Distance from Mt. Kanlaon: 9.5km, lying on the eastern side
Nearest City: San Carlos City, Negros Occidental (38 km, 1 hour away)
Nearest Airport: Bacolod-Silay International Airport (around 120 km, 2.5 hours away via private vehicle)
Languages Spoken: Cebuano, Hiligaynon, Tagalog, English
History of Canlaon City

Before the conception of Canlaon City, the area where it stands today was known as Sitio Mabigo of Barrio Panubigan, which used to be a part of the hacienda of Don Diego de la Viña in the municipality of Vallehermoso. Originally a place undisturbed by human life and filled with rich flora and fauna specifically bigo trees, Mabigo was discovered by Don Diego when he and his son Jose crossed the mountains while riding horses. It later became a progressive village, with migrants coming in from Cebu, Bohol, Iloilo, and Antique.
After the Japanese occupation, in 1946, the municipality of Canlaon was created covering Panubigan, nine other former Sitios, and Mabigo, which became the seat of power. However, it was only in 1967 that Canlaon became a city, as proclaimed by former President Ferdinand E. Marcos.
Canlaon City: Way of Life
Being a fourth-class city, Canlaon is a laidback place where people take time and enjoy the beauty of unhurried urban living. Majority of the city consists of sugarcane plantations, rice fields, and vegetable farms that are planted on ridges, hills, and vast plains.
The way of life is simple. People are familiar with each other and getting around the city centre is fast and easy. Everyone rides the habal-habal, the only mode of public transportation in the city. It is, however, confusing to differentiate habal-habals from private motorcycles because modern motorcycle models usually purchased for private use are actually the ones used for commute. Nevertheless, you'd know if one is for hire when the driver stops in front of you and asks, "Sakay?" or "Asa ka, mam/ser?"
While it is rare to get a traffic violation on the road, the new mayor, Hon. Jose Chubasco Cardenas, has required motorists to wear a helmet or face a fine. Traffic jams are nonexistent except during the Pasayaw Festival held every March 19 where the highway is  closed for a few hours for the street dancing.
There is only one bank where people can withdraw money from, Producers Bank. Before that, residents withdrew their salaries from Palawan Pawshop through their Cash Card/ATM Withdrawal services where you can inquire about your balance and withdraw money for a small fee. Another option for locals was to go to take advantage of a similar service by M Lhuillier where you can withdraw cash or inquire about your balance via POS terminals.
It is highly recommended for tourists to carry cash as there are limited withdrawal service options and that all transactions are on a cash basis. F&C Guest House and Resto Bar, on the other hand, has a POS terminal but again, there is no guarantee that it will work 100% 24/7 mostly due to unreliable Internet connection.
The Internet connection, albeit not top-notch, has an acceptable speed. Most areas have LTE coverage, even in some places in the mountainous barangays. Grab does not operate in this quaint, little city.
Canlaon City is dubbed as the Vegetable Basket of Negros Oriental and produces tons of vegetables, often visited by suppliers from Bacolod, Dumaguete, Cebu, Iloilo, Guimaras, and other places who regularly buy extra cheap vegetables from the city.
The little city nestled at the foot of Mt. Kanlaon is also known for its cool weather all year round so it is best to bring a jacket or two when visiting.
Although part of the Cebuano-speaking Negros Oriental province, it is typical for the people of Canlaon to exchange conversations in Cebuana, Hiligaynon or Ilonggo, or a mixture of both dialects.
How to Get to Canlaon City
From Manila
There are no direct flights from Manila to Canlaon City so you will need to take either a flight from Manila to Bacolod City or from Manila to Dumaguete City. Because Dumaguete City is four to five hours away from Canlaon City by bus, I highly recommend that you fly to Bacolod instead since it is only 3 hours away from Canlaon City.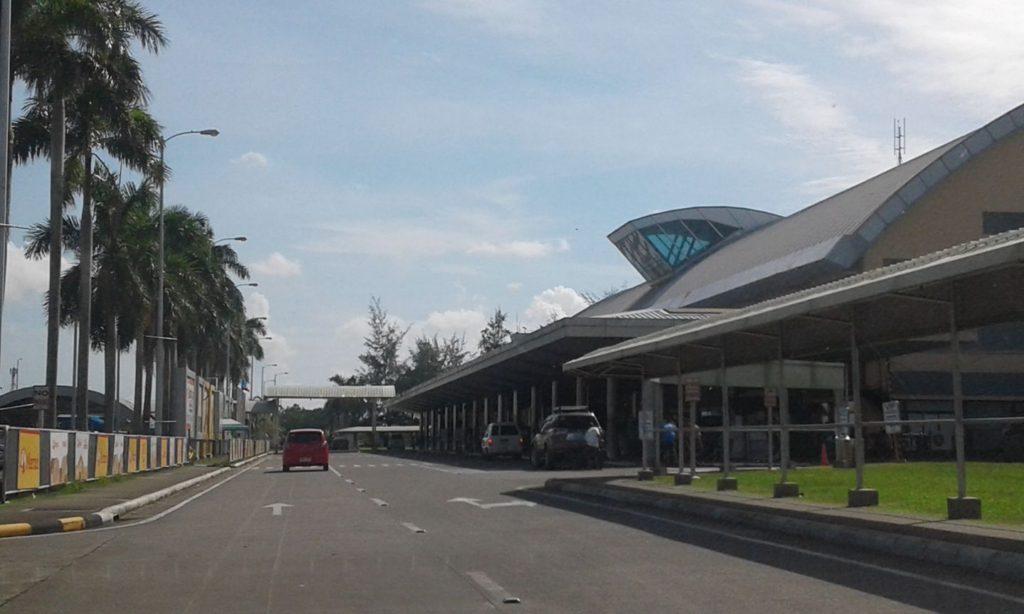 Cebu Pacific, Philippine Airlines, and recently, AirAsia, all fly to Bacolod on a daily basis.
Related: Cheap Flights to Bacolod: AirAsia Now Flies to the City of Smiles
From the Bacolod-Silay Airport, you can take a shuttle van for Php100 – Php150 and tell the driver to drop you off to the Ceres South Bus Terminal. It is important to say the SOUTH part because there are two Ceres terminals in Bacolod and the other one does not serve the Canlaon route. The trip from the airport to the terminal will take around 30-45 minutes, depending on the traffic situation and the number of drop-offs. If you don't want to share the ride with others, you can opt for Grab or the regular taxi cabs, which charge much higher and usually run on a pakyaw basis.
Upon arriving at the Ceres South Bus Terminal, ask a porter or a konduktor where the next bus for Canlaon is parked. Fare is Php140+ for non-AC busses and Php180+ for air-conditioned busses.
The Bacolod-Canlaon route has trips every 30 minutes beginning 3:50AM to 7PM daily. An average trip takes 3 hours.
Upon reaching Canlaon, you can alight at the Caltex Gasoline Station or the Canlaon City Jeepney and Bus Terminal where habal-habal drivers will be waiting for you. Fare is P10.00 only, anywhere in the city except outside the Mabigo and Panubigan areas.
In my next post, I will indicate where you need to alight to easily get to your booked hotel or accommodation.
NOTE: Another option is sea voyage via 2Go, which has regular Manila-Bacolod trips as well. You can refer to the next image for an idea of the trips and prices.  It is best, however, to directly contact your carrier choice for accuracy of the schedule.
Keep in mind that AirAsia flights are not yet included below since the said airline will begin operating the MNL-BCD-MNL route on October 26, 2019, in time for the MassKara Festival.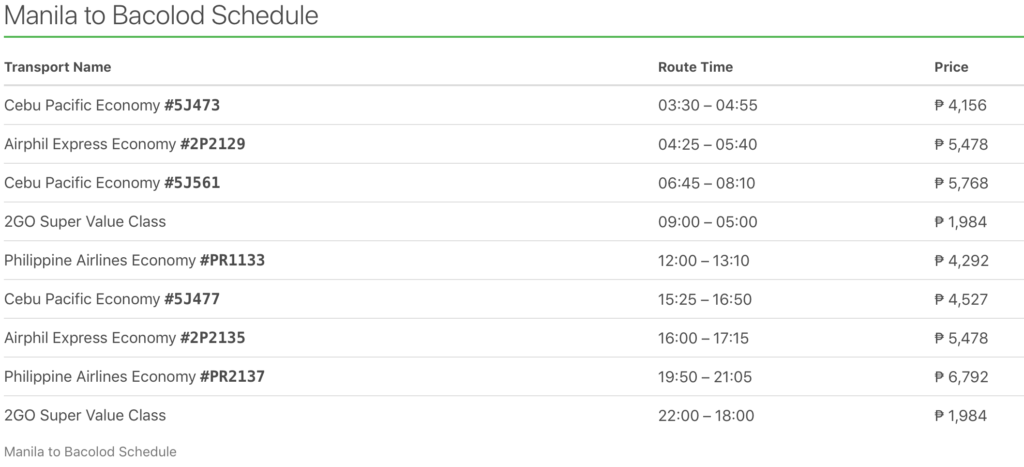 From Cebu
Cebu Pacific and Philippine Airlines both fly to Bacolod on a daily basis. If budget is not an issue, you can take a 20-minute flight from the Queen City of the South to the City of Smiles and then follow the itinerary mentioned above to reach Canlaon City.
However, if you want to save money or if you're scared of flying, you can always take the RORO trip from Cebu North Bus Terminal. There are actually plenty of trips that you can catch to reach Negros but choose this route: Cebu North Bus Terminal to Bacolod South Bus Terminal via Canlaon. Again, it is important to ride the bus that says VIA CANLAON because other busses with Bacolod destinations pass by different directions. The Bacolod via Don Salvador route passes through the Negrense mountain ridges and will never pass by Canlaon; the Bacolod via Escalante bus follows the Northern Negros coastline (which is super out of Canlaon City's direction) and takes much longer to reach Bacolod City. Refer to the map below to be enlightened. Haha.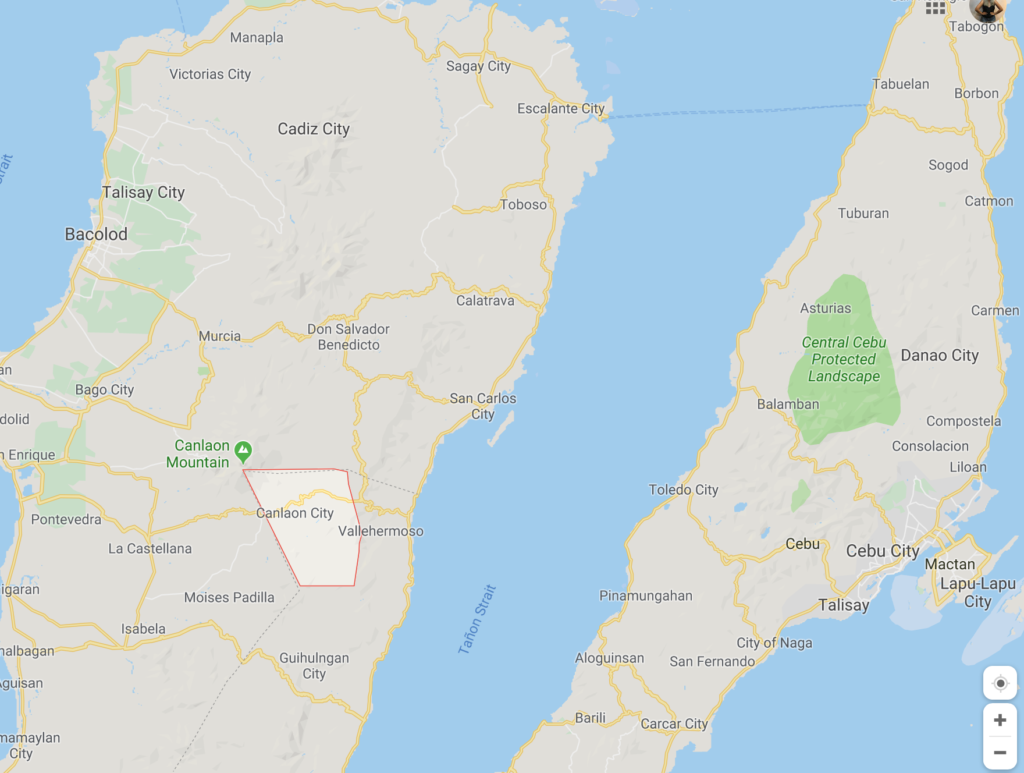 Keep in mind that the Cebu Noth Bus Terminal to Bacolod Sout Bus Terminal via Canlaon trip only runs once a day. It leaves at 4:40AM and will take 6 – 7 hours, not because it's far, but because of the stopovers and the preparation time to board the RORO vessel. Fare is less than Php500.00.
DIY Land Trip from Cebu to Canlaon City
If you miss that specific trip, you can always DIY your way to Canlaon City. When I was still studying and working in Cebu, this was what I usually did. The Cebu to Canlaon route I'd take is this:
Cebu City –> Toledo City –> ride a RORO vessel or a fast craft — > San Carlos City, Negros Occidental –> Canlaon City, Negros Oriental
From Cebu City to Toledo City, travel is 2 hours via bus; one hour via van. If you take the RORO vessel, add another 2 hours, one hour for fast crafts. Finally, add another hour from San Carlos to Canlaon City aboard the Ceres Liner bus.
To go to Toledo City, you can choose to ride any type of bus or a shuttle van. Trip is usually between 1- 2 hours only.
Go to the Toledo Port and book the next trip to San Carlos City.

Lite Ferries has trips from Toledo to San Carlos 9 times a day: 4:30AM, 6:00AM, 7:30AM, 10:00AM, 12 noon, 1:00PM, 4:00PM, 6:00PM, and 9:00PM.

Its San Carlos – Toledo trips are:1:30AM, 5:00AM, 7:30AM, 10:00AM, 1:00PM, 3:30PM, 6:30PM, and 8:30PM.
Travel time is two hours.
Fare is between Php190 – Php260.
Freight rate is between Php1,300 – Php1,500 for sedans, SUVs, and vans.

Fastcat operates the Toledo to San Carlos route 5 times a day: 3:00AM, 7:00AM, 11:30AM, 3:00PM, and 7:00PM.

Its San Carlos – Toledo trips are: 1:00AM, 5:00AM, 9:00AM, 1:00PM, and 5:00PM.
Travel time is one hour.
Fare is between Php190 – Php330.
Freight rate is between between Ph1,680 – Php2,100 for sedans, SUVs, and vans.

There are also fast crafts travelling from Toledo to San Carlos and vice versa.

EB Aznar Shipping daily schedule is 7:30 AM, 9:30 AM,11:30 AM, and 3:30 PM.
Its San Carlos-Toledo trips are: 6:30 AM, 9:30 AM, 12:30 NN, and 3:30 PM.
Travel time is 45 minutes – 1.5 hours, depending on weather conditions.
Fare is between Php180 – Php225.
From Mindanao
You can fly from Cagayan de Oro City or Davao City to Bacolod and ride a bus from the Bacolod City South Bus to reach Canlaon City after three hours.
Another option is riding a ferry or fast craft from Dipolog City to Dumaguete City. The trip usually ranges from 2 – 4 hours.
You can then board a Ceres Liner bus from the Dumaguete City Ceres Terminal to Canlaon City. The trip is usually between 4 – 5 hours. There are also vans travelling the route but they are not licensed so it's not easy to find them.
Excited to travel to Canlaon City?
Now that you know how to go to Canlaon City, it's time to book your accommodation of choice. Check this article now:
---