foodpanda Restaurant Partners share their stories of success
Press Release of foodpanda
BACOLOD, PHILIPPINES — foodpanda, the on-demand food delivery service in the Philippines, prides itself in delivering food from the best restaurants in the City of Smiles, Bacolod City. The delivery service aims to make local and delicious food more accessible to Bacolodnons with just a tap.
foodpanda has definitely got you covered when it comes to your barbeque cravings — k-bbq, ihaw-ihaw, grilled chicken, just name it! All thanks to the hardwork and perseverance of these foodpanda restaurant partners. Here are the stories from some of them:
Ms. Sandra Song, owner of Mashiso Korean Food Corner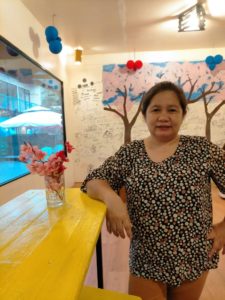 "I started to open Mashiso last 2018 and moved to a bigger place in June 2019. The idea of opening this restaurant was to introduce Korean food and its culture to the people of Bacolod. Mashiso is a Korean term meaning "taste good" or "delicious", that is why we are committed to serving good and tasty food using quality, natural ingredients.
Serving korean food to some non-Korean food lovers was really hard. You have to invest your heart and patience. You have to explain the ingredients used and its health benefits to the body. We made flyers and gave free food tasting to neighboring offices. We also conducted events to attract customers.
During the first year of operation, we struggled to pay our bills, rent, and salary of our staff but getting into an online food delivery platform helped build up our sales. The best part of my job was when my customers go out of my restaurant saying "I'm so full that I can't stand up", I feel so happy and fulfilled every time. I gained my strength and inspiration to do more from people I meet and talk to everyday.
I'm starting to expand my business and hopefully it will move to a bigger scope someday. With the good response from our customers and the demand for good food, I am determined to continue what I have started and I'm hoping to inspire others in serving good food too.
With the advancement of technology, marketing strategies, ads, social media and discounts vouchers,
foodpanda became popular in food delivery service in Bacolod City. Its popularity helped us increase our sales, built up our brand name and made us visible to the public."
 Ms. Marika Jean Jalando-on, owner of Mika Con Sasa Seafood and Grill House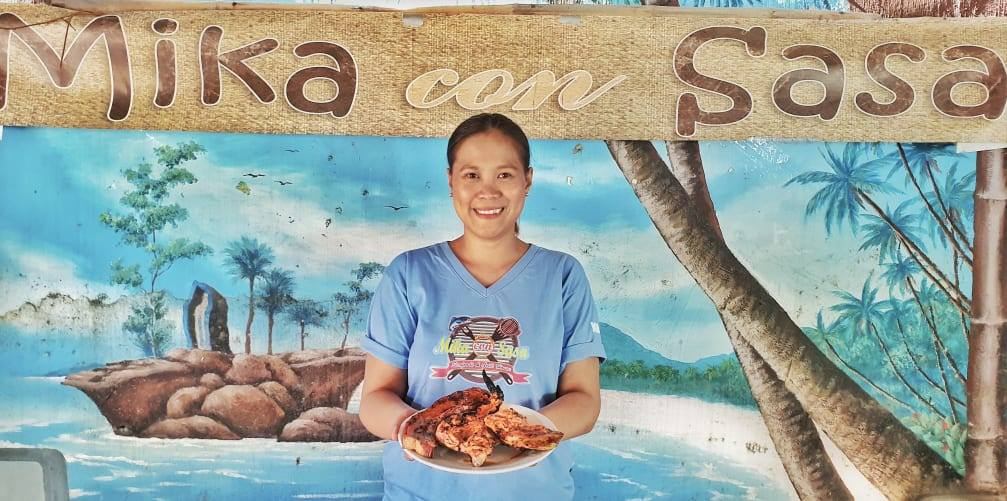 "My husband was the one who persuaded me to open an eatery. He believed that we could make it in the business because he sees me as a good cook. It was the year 2016 when Mika Con Sasa was established.
I would always tell myself to never lose the passion that I built and I always keep in mind how and why I started in the first place. I believe that your attitude will affect your business. As a business owner, you have to know the current prices and where to buy at a cheaper cost.
Since both my husband and I came from a not so well-off family, we don't have enough savings to start a business so we had to apply for a loan. We experienced a lot of struggles at first but we didn't give up because we knew that it will all pay off in the end. We hope to see more Mika Con Sasa branches across Visayas in the future."
Ms. Debbie Vinco, owner of Umbao Chicken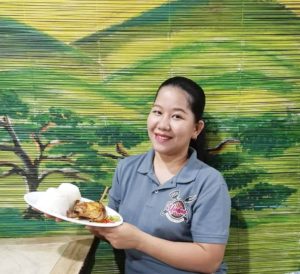 "Originally, the establishment had already been operating for several years before we took over the business. We started on March 15, 2018, under a new management. The name "UMBAO" came from the family name of the previous owner. We just decided to keep it and leave it that way.
There are a lot of struggles and challenges to overcome in starting your own business but the best part about the job is the process. Every day is different. There are new challenges everyday and solving these situations together with well-trained and trusted staff is really fun and fulfilling. I hope to see myself having branches of our stores in other regions.
The advice that I could give to aspiring entrepreneurs is to always be humble and appreciate the little things that your employees do every day. Treat your workers as a human being and as a family. Show them respect, and lastly, show them that your success is their success too.
Being part of an online food delivery platform helped our business to grow. It helped us in terms of marketing and in reaching our customers. It also helped us build good business relationships with our suppliers."
**************
About foodpanda:
foodpanda is dedicated to bringing food lovers their favorite meals from curated local restaurants in the Philippines. Since its creation, the on-demand food delivery service has grown to more than 170,000 partner restaurants in more than 325 cities across 13 Asian and Central Europe foodpanda Philippines currently operates more than 50 cities across the Philippines anc continuously expanding. foodpanda is a subsidiary under Delivery Hero, a worldwide leader of the food delivery industry. For more information visit www.foodpanda.ph
How it works:
Through the foodpanda website or via the new iOS and Android apps, customers can enter their address and view a curated list of restaurants and shops serving their neighborhood. Once they have found their choice, they can place an order in the comfort of their home or office, paying online through foodpanda's secure platform or via cash-on-delivery The order is then carefully prepared by the restaurant or shop, picked up by the foodpanda rider and delivered straight to their doorstep.
Follow us on:
Facebook: foodpandaphilippines
Twitter: foodpanda_ph
Instagram: foodpanda_ph
For more information, please contact:
Reynaldo Rubio –
PR + Partnership Manager
foodpanda Philippines
M : 0998 8442759
---