The Gig Economists: Freelancing in the Philippines
Around this time in 2017, I was commissioned by Cosmopolitan Philippines to write an article about my experience freelancing in the Philippines (which you can read here, I Make P60,000 A Month As A Freelance Writer). Although I never expected anything from the assignment, I was overwhelmed to find messages flooding my inbox telling me that I've inspired them to leave their corporate jobs and try freelancing as a career. Most of the letters also asked me for advice on how to get started on becoming a Pinoy freelancer.  Although I was able to reply to some messages, I admit it was only until recently that I discovered a plethora of requests waiting in vain on my Facebook Messenger.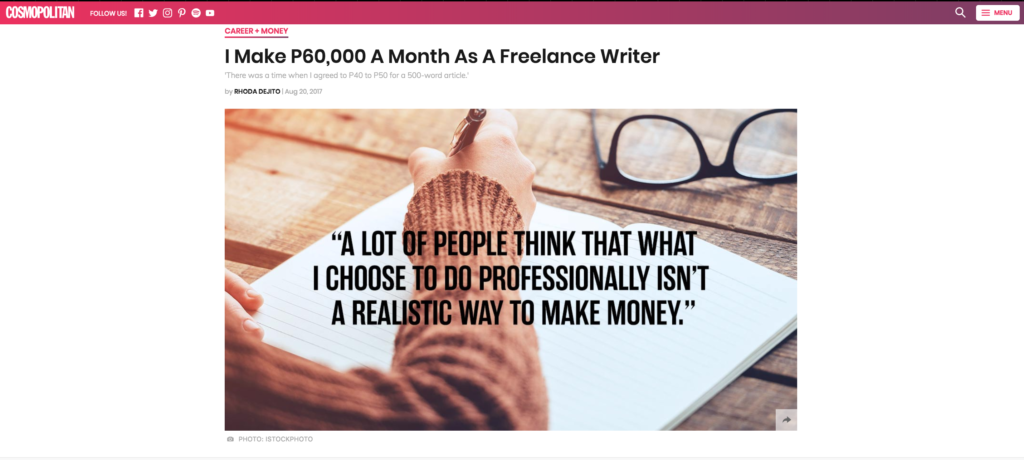 I feel guilty for seemingly neglecting your queries. I would like to sincerely apologise to those whom I haven't responded to yet. Truth be told, I don't get notified of all requests in my Messenger so I was not able to read your notes in time. I feel bad because I sounded rude, ignoring all your letters, but with all honesty, it was my illiteracy with new technology that should be blamed (Tita na po ako. Huhuhaha).
Anyway, let me make it up to you with this new series I'm building in my blog. I am dedicating a section to help out those who have pondered about joining the gig economy but really do not know where to start on how to become a freelancer in the Philippines.
I will be publishing blog posts regularly to answer your questions and to help you establish your career.
I would like to call this section the The Gig Economists: Freelancing in the Philippines because I was inspired by The Harvard Review's new career concept called gig economy, which I will explain in this article:
What is Gig Economy and How Does It Affect the Modern Filipino Employment Scene?
Because I am a freelance writer, most of my self-help tips will revolve around what I do but I will also try to include other vocations as I am a hardcore raketera myself. When I am not busy, I choreograph dances (be it large-scale street dance and arena performances nga pangpabibo sa fiesta or for a competition or even for a marching band); organise weddings, parties, and other events; or speak for youth symposiums and seminars here and there. So once in a while, I'll include guides for other forms of freelancing in the Philippines kay murag tanan nalang, gipatulan nako.
I cannot stress enough why I am drawn (seemingly forever) to freelancing. You can read my Huffington Post article to give you more idea on my decision to leave the corporate world in 2011 and become a bum (according to the people who don't know about what I do).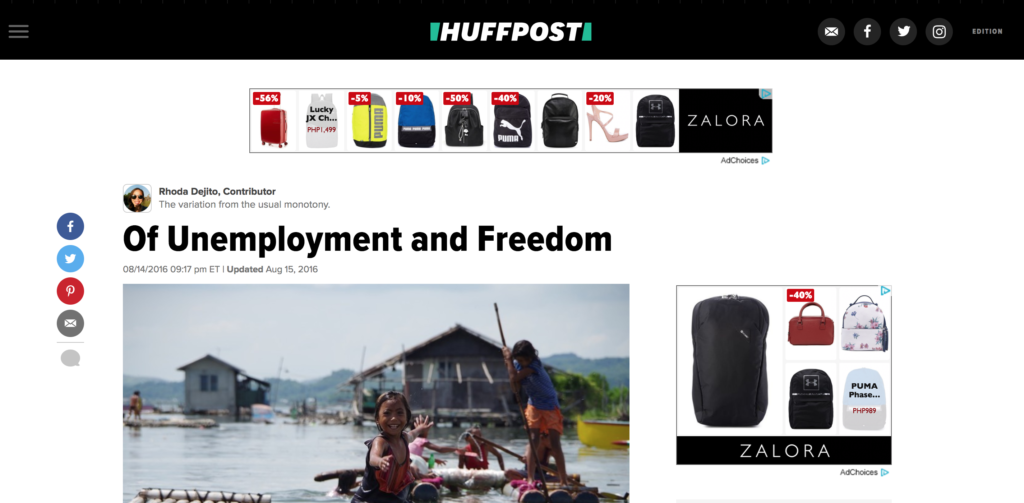 Before the experts bash me, let me put this disclaimer first. All of the articles written here are based on my experience as a freelancer of nine years and counting (started in 2011) and with all the community outreach, readings and research I've personally done. My goal here is to inspire others to get started and to actually help them out with concrete tips—all for FREE. I hope we can all support each other nalang. Good vibes all the way.
Also, please note that your success in the gig economy relies mostly on your discipline, dedication, and hard work. You can find all the guides there are in the social web about becoming a freelancer in the Philippines but at the end of the day, it is all up to you. 🙂
Are you ready to become a gig economist? Check out these blog posts to get started with freelancing.
The Pinoy Freelancer Startup Kit: 2019 Edition
Where to Find Freelance Jobs
How to Stand Out from Other Freelancers
Managing Your Finances as a Filipino Freelancer
Freelancing Trends
Continuing Education for Freelancers
Get notified when a new article about freelancing in the Philippines goes live! Please leave your name and email address here.
---