Budgeting Hacks: How to Manage Your Kids' Back-to-School Expenses this Season
Enjoy Home Credit's back-to-school cash loan promo with just 1 minute processing time!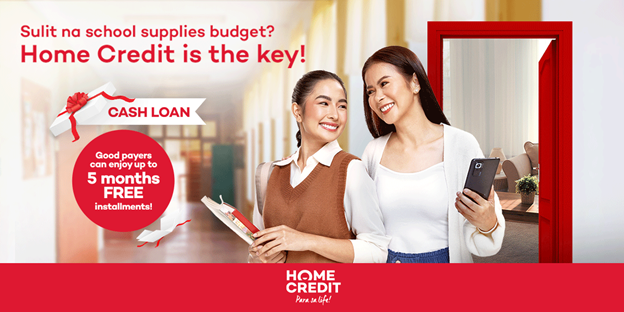 Taguig City, Philippines – With the new academic year just around the corner, most parents, especially moms, are gearing to ensure a smooth back-to-school season for their kids. This entails making sure that tuition fees and miscellaneous expenses are settled in time for the beginning of classes while providing everything they will need, including textbooks, pens, paper, uniforms, and even gadgets, to be equipped with the right tools for their school tasks.
However, the overall cost of these back-to-school needs can strain your finances, especially when you have a fixed monthly income. This is why it is crucial to manage your expenses properly. As this task can be quite challenging, here are some smart budgeting tips you can apply to avoid overspending in the upcoming school year.
These tips are provided by Home Credit, a leading consumer finance company.
Establish a list of school essentials, other important expenses
Creating a detailed list provides an overview of the essential items your kids will require and the fees you need to pay for the upcoming academic year. This allows you to prioritize what back-to-school needs should be taken care of first while not missing out on anything important.
Before finalizing your list, do not forget to check your kids' school supplies from the previous school year. Once you determine which items can be reused this season, you can check them off to avoid unnecessary expenses.
Determine your budget
Now that you have a comprehensive list for the back-to-school season, you can start looking over or estimating the costs of everything your kids will need. From there, you can establish a realistic budget based on your financial capabilities. This allows you to better manage your finances and make informed shopping decisions.
Take advantage of deals, discounts
Sales and discounts can significantly reduce the total cost when you are shopping for supplies. Taking advantage of such offers will allow you to save more money without compromising the quality of the items. At this period, you can also buy in bulk so you will have a stock of school supplies to last the whole academic year, minimizing your kids' school expenses in the long run. Additionally, this will enable you to stretch your budget further to purchase additional items for your kids or redirect the saved funds to other essential expenses at home.
The key to your back-to-school budget!
If you are looking for a convenient and reliable solution for your budget in preparation for the upcoming academic year, Home Credit has you covered, as it offers a back-to-school cash loan promo for its eligible customers until August 31, 2023.
By visiting the My Home Credit App, you can now easily apply for a cash loan anytime and anywhere. With just one minute of processing time, you can avail a minimum of PHP 3,000 up to PHP 150,000 loan amount to cover your kids' expenses this season—be it tuition fees, school supplies, and more. You can also enjoy flexible payment options that range from 12 to 60 months and get up to five months of free installments if you are an eligible customer who pays on time.
You are qualified to get this promo if your account is active and in good credit standing during the offer period. You can also enjoy Home Credit's ongoing promotions even after participating in the back-to-school cash loan promo.
Grab this amazing offer while it lasts! Take advantage of Home Credit's promo to ensure your kids are well-equipped to face the new school year without breaking the bank.
To know more about the latest updates from Home Credit Philippines, visit its official website, www.homecredit.ph. You may also follow its official Facebook, Instagram, and TikTok accounts. Customers are also encouraged to download the My Home Credit App on Google Play to learn more about the latest promos and see what's new in the Marketplace.
Home Credit Philippines is a financing company duly licensed and supervised by the Securities and Exchange Commission (SEC) and the Bangko Sentral ng Pilipinas (BSP).
###
About Home Credit
Home Credit Philippines is the lifestyle partner of every Filipino, providing access to credit through fast, convenient, and affordable financing in more than 14,000 partner stores nationwide. The brand offers a wide range of products from smartphones and laptops, home appliances and furniture, bicycles and motorcycle accessories to electronics and hardware, sports equipment and many more – offered at low or 0% interest rates in easy monthly installments.
Nearing its 10th year in the Philippines, Home Credit has served close to 10 million Filipinos. Beyond installment financing and related insurance services, Home Credit also offers cash loans, a virtual spending limit named Qwarta, and a credit card for its existing qualified customers. With the My Home Credit app, Filipino customers are just a click away to get the products they want for an elevated lifestyle. More information on HCPH is available at www.homecredit.ph.
More information on HCPH is available at www.homecredit.ph.
---