Cheap Hotel in Dumaguete: 118th Silliman Founders Day Celebration 2019
On a budget and looking for an affordable yet awesome place to sleep in or cheap hotel when visiting Dumaguete City for one of its grandest events this year? Check out what we have in store for you.
August is a big month for the City of Gentle People. Every year, thousands of tourists, balikbayans, kababayans,and locals flock the streets of Dumaguete City to celebrate the annual Founder's Day Celebration of Silliman University, slated every August 28.
And because of the magnitude of people revelling during this season, chances are you'll find it difficult to spot place to crash or a vacant hotel room in Dumaguete. So if you are planning to join the 118th Founder's Day in Silliman as an outsider or as an alumnus, it is best to get your lodging arrangements in order right away.
.
Where should I stay in Dumaguete? Which hotel should I stay in Dumaguete City?
If you are looking for a value-for-money and cheap hotel accommodation below Php600 in the City of Gentle People, why not book a bed at Seis Hostel.
.
Stay at Seis Hostel Dumaguete this August 2019
If you have had no luck finding a budget accommodation in Dumaguete City, why not try the new Seis Hostel located at San Jose Extension? For only P500.00 per head, you have a bed in a 2-bunk or 3-bunk air-conditioned room.
Seis Hostel is developed by a group of millennial friends (six for sais) who are fond of travelling on a budget abroad. They are quite familiar with the hostel lifestyle and backpacking life that is why they understand some individuals' preference for value accommodation options. Hence the birth of Seis Hostel.
.
Why Choose Seis?
There are plenty of reasons why you should stay at Seis Hostel during Silliman University's 2019 Founder's Day Celebration or for any event for that matter.
.
1. Value for money – For only Php500/head/night, you can already have a comfy bed in a bunk to sleep in. Albeit simple and basic, the bed features a plush mattress, a soft pillow, and a crisp linen blanket. You may have to share the room with other travellers but if you are visiting Dumaguete with three or five of your friends, then you can have an entire room for your group. Definitely a cheap hotel option for you!
.
Seis is a three-bedroom hostel that can accommodate up to 14 people. It has 2 rooms with 2 bunk beds (room is good for 4 pax) and one room with 3 bunk beds (room is good for 6 pax).
.
2. Hot and cold shower available – Let's be honest about this: not all inns, B&Bs, and hotels in Dumaguete offer hot and cold baths. But if you stay at Seis, you can enjoy a luxurious shower that comes with a Hot/Cold option. 
.
Seis has two, shared bathrooms and the hot and cold shower is available at the ground floor. 
.
3. Free WiFi – Other hotels charge you to use their Internet but at Seis, you can connect to the Web without a cost because really, you cannot put a price for this commodity. 
.
4. Venue to make new friends – Hostels are a great place to meet fellow travellers. Seis has Instagrammable nooks where you can enjoy a conversation with a backpacker from Europe or perhaps a tourist from another province in the Philippines.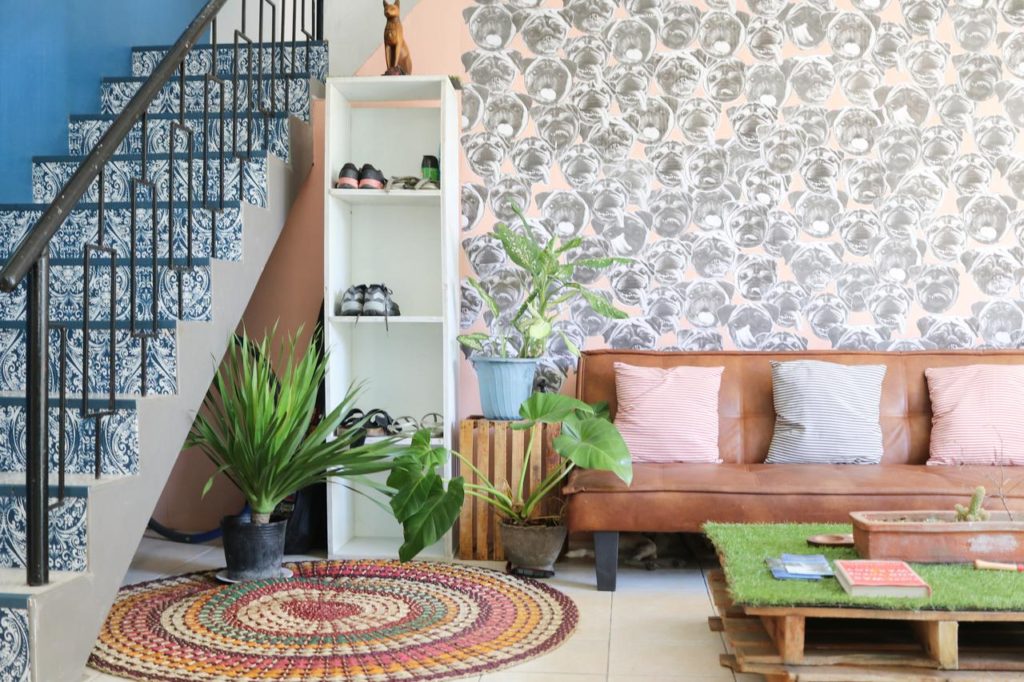 .
Pictured above is the common area on the ground floor where you can sip a hot drink with peers or connect to the WiFi and work on your laptop. 
.
5. Special hangout spot – Often called the WiFi-free zone, Seis has a lovely rooftop where you can spend the night with friends, old and new, or simply gaze at the star-lit sky and enjoy the cool evening breeze. 
.
Seis occasionally hosts Movie Nights at the rooftop. There is also a high-end grill if you fancy a barbecue party with your friends. Or if you want to sing your heart out over a bottle of beer, request the friendly owner to lend you the karaoke machine for free. 
.
WHERE IS SEIS HOSTEL LOCATED? 
Seis Hostel is conveniently located along San Jose Extension, and it's a property away from the Seventh Day Adventist Church in Dumaguete City (there is an ongoing construction of a Korean restaurant in between). It's basically at the center of the city. 
.
The market is a mere five-minute walk; Lee Plaza and downtown, a 7-minute walk, and the boulevard can be reached after a 10-minute hike from the hostel. 
.
.
How I can book Seis Hostel?
You can book Seis Hostel via Booking.com, Airbnb, or even through their Facebook page. You can also get in touch with them at 0956 398 2627 to book your stay right away.
---
---