How We Spent Php3,000 ($60) for our Wedding Flowers and Decor
This is a fragment of the story of my DIY wedding in the Philippines. Find out how my husband and I successfully ignored the deafening social media pressure and spent Php3,000 or roughly $60 for our wedding flowers and wedding reception styling.
.
While I have nothing against grand weddings and the elaborate decorations that come with it, I am not a big fan of how commercialised marriage ceremonies have become. From the coordinators to the makeup artists; from the gowns and suits to the venue styling; from the hosts to the documentation options; I feel like everything has become so templated it seems like the real meaning of a marital union has been lost.
.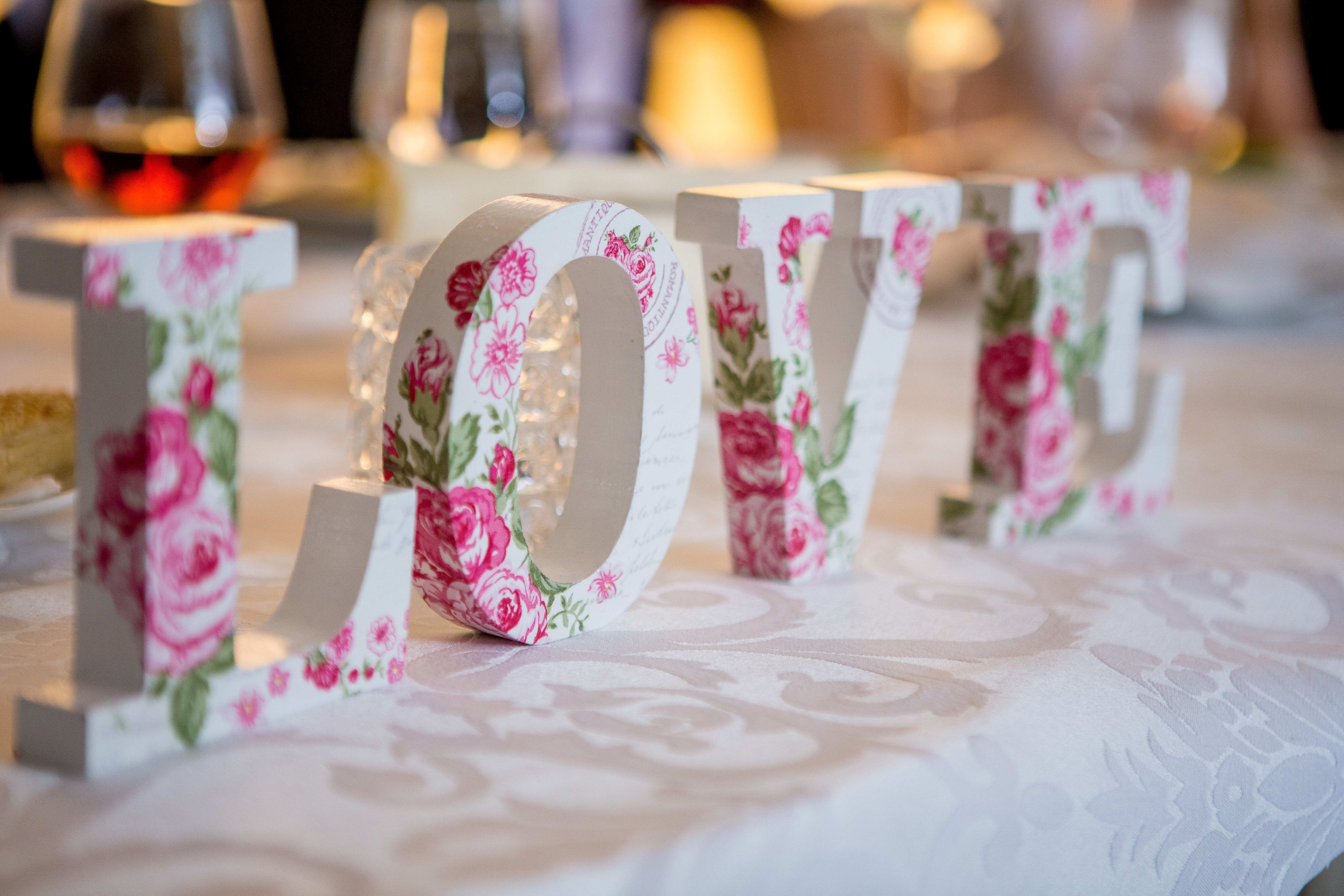 .
Unfortunately for most people, getting married in the Philippines almost always translates to an event of grandeur.  If you:
didn't hire the most popular makeup artist in town, your celebration is considered a flop;
didn't get your reception designed by top stylists, your venue is immediately tagged as chaka; and
decided to have your gown sewn by a local seamstress than by a fashion designer, people will show a look of pity in their eyes.
.
And PLEASE . . . don't get me started with the online world. With all the dreamy, fairytale-like setups plastered all over Facebook and Instagram, couples end up succumbing to social media pressure even though, truth be told, their budgets won't allow them to splurge like royalties. Ooooops. Sorry not sorry though. 
.
Weddings and Social Media Pressure
With the glamorous portrayals of engagements found in the Internet, some of today's brides demand couture gowns with tails so long you'll be happy to have your entire village's rubbish swept by the cloth (harhar. No harm trying to be funny here). Some order their men to book prenuptial sessions that in reality, show nothing but pure awkwardness in the groom's face. Poor guy. How it makes you cringe!
.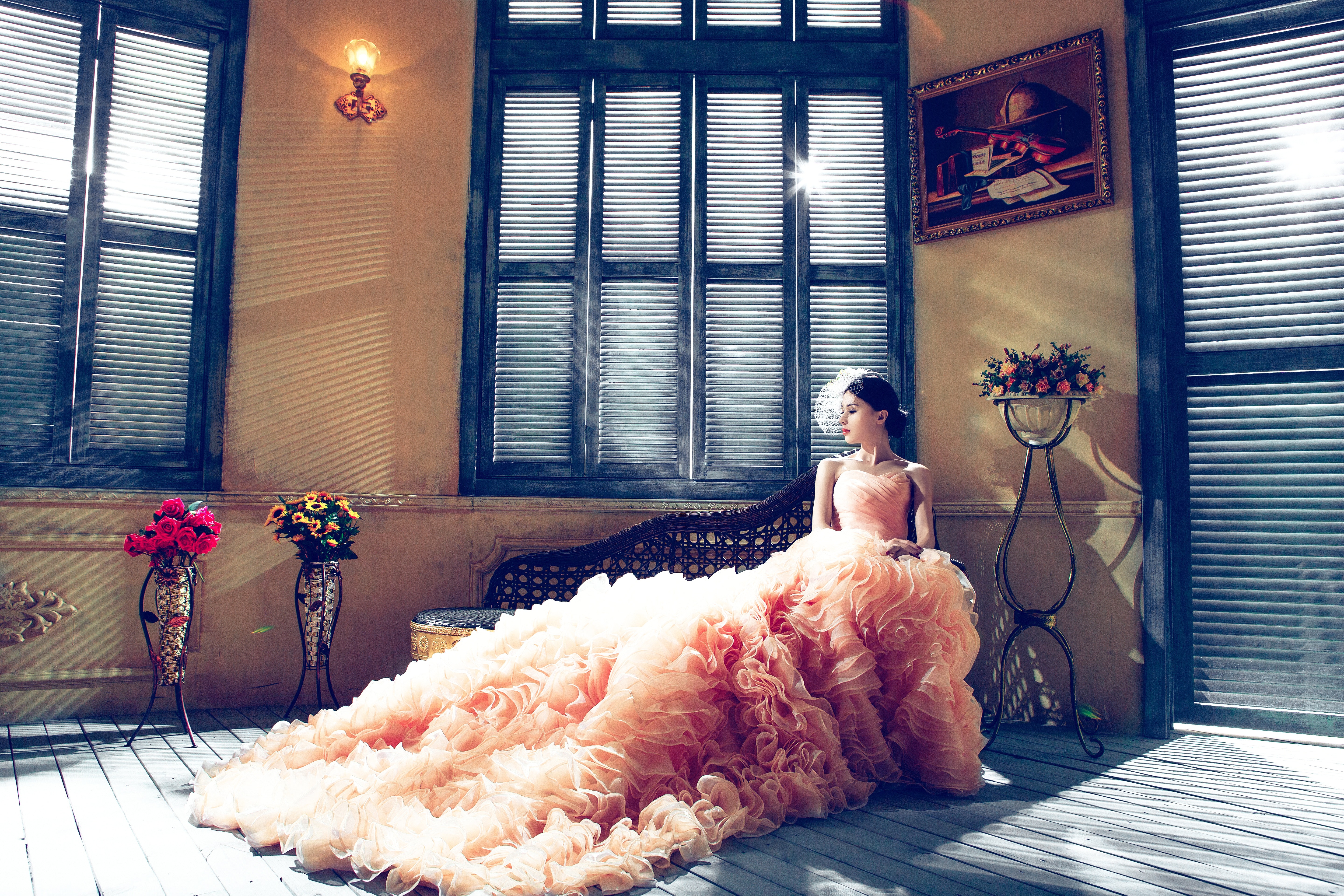 .
But yes, just so they can keep up with what they see on social media, a lot of brides and grooms give in to the pressure. I have no dislike for those who go through all the blinding wedding splendour because they can afford it. Who are we to judge when they have the means, right? But unfortunately, there are plenty of couples who are too ambitious for their budget. I know a a number of them still paying their wedding expenses two years after that one grand celebration.
.
The Pre-Wedding Struggle
When Mac and I planned for our nuptials, it was clear from the start that taking out a loan is out of the picture. Noooo, we'll not be one of those couples. Definitely not! I won't allow it.
.
We both agreed that on a cap for all our expenses; should we find something costly that we can't let go of, we'll have to adjust the rest of the budget just so we won't spend more than what we have intended for the wedding.
.
But Mac is used to attending luxurious marriage celebrations, having regularly performed in grand weddings in various parts of the country, which are often attended by the national politicians, celebrities, and TV personalities. So in short, a lavish reception was typical for him. 
.
I, on the other hand, prefer the unconventional approach. My friends know me as someone who gets thrilled at making the most out of limited resources, who gets high like crazy over finding the cheapest deals for virtually everything, and one who's never impressed with overrated stuff. Thing is, anything "beautiful" for most people yet seen repetitively, whether in person or online, I actually find ordinary and unoriginal (READ: repetitive reception packages flashed online). Most of them have lost their charm, but that's just me. That's why I am drawn to DIY projects, where one can bring in a lot of character and creativity. You can say I'm kuripot or bitter lang kay walay kwarta… okay fine, yes, wala koy kwarta, but to each his own. 
.
So how did we settle this difference? Of course, I won.
.
So DIY it is!
 I know that initially, Mac had reservations on my decision to organise and coordinate the wedding on my own. He suggested that we, at least, hire a coordinator. After all, he knew a lot of suppliers, having worked with them practically in his entire career. But I was stubborn. I knew we could always use the money that would have gone to the pockets of the coordinator. Why hire and spend a significant amount of money when I and my sisters have had our own share of organising and coordinating social and corporate events? 
On a sidenote: I wished we did hire a planner because I went crazy with all the to-dos and decision making involved. PLUS, I worked on weekdays and went to law school on weekends, leaving me super stressed while planning the entire thing. But then again, I'm still glad we didn't because $$$$.
.
So let's go back to the topic on how we spent Php3,000 on our wedding flowers.
So after convincing Mac to let me do things on my own, I immediately researched on Manila-based flower and foliage suppliers. Of course, I knew what I was looking for: peonies and carnations.
.
I made calls to companies both large and small. And just when I thought I found the perfect supplier, she wouldn't let me buy peonies, which was priced by the way at Php15,000 a dozen, unless I was a professional event stylist. Of course, I tried to get away with it by telling her I have had my share of decoration experience but she wanted me to show her my website. Arrghhhh! Such a hassle. Of course, I didn't have one! I only did styling for friends and loved ones so what can you expect?
.
That's when Dangwa came into the picture.
Four months before the wedding, I had the chance to go to Manila for my regular year-ender trip. I got in touch with my best friend Bien and asked him if he can go with me to Dangwa to look at flowers. Of course, being the accommodating person that he was, having promised to look after me every time I'm in the capital city, he happily obliged to come with me.
And OMG, Dangwa is heaven! You can see roses virtually everywhere! There are carnations, statice, tulips, sunflowers, peonies, orchids, and foliage—basically everything you need and dream of all at a ridiculously low price. Remember the P15,000-peony sold by one stylist? Turns out a dozen of these lovely blooms can be bought at P500 – P700 in Dangwa! And the roses? They're at P160 per bundle (1 bundle is 2 dozens or 24 roses!).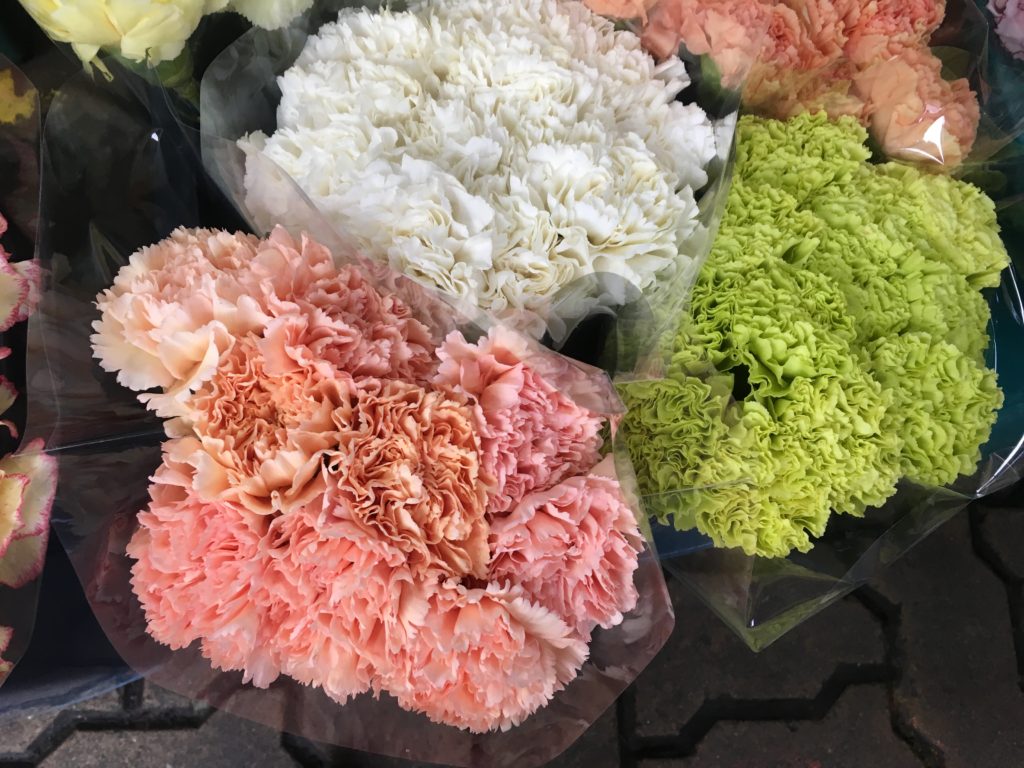 I was overwhelmed with all the choices but I knew what I wanted from the start. I wasn't able to take pictures to prove how overwhelming it can get but if you Google "Dangwa", you'll find out how it looks like. Here are a few of the blooms and foliage you can find there.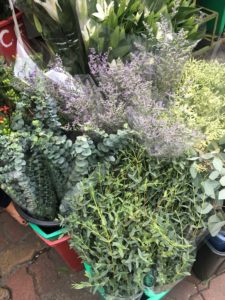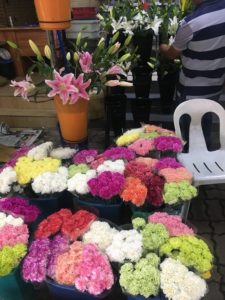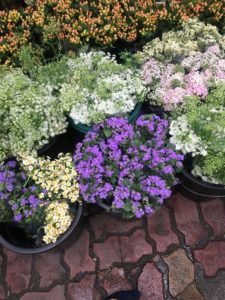 So how did I go about the logistics? Who brought the flowers to Bacolod City? 
Thankfully, I have a best friend who was based in Manila at the time I needed the flowers. So what I did was gather calling cards from the different vendors and contacted them online to finalise my order. Afterwards, I had my best friend pick the flowers up and bring it along with him on his plane ride to Bacolod City. 
Here's the actual transaction I had with the Dangwa vendor I chose.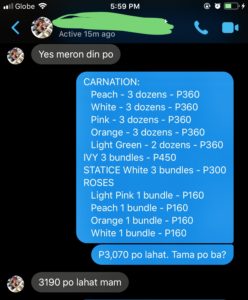 Forgive me for the lack of courtesy on the screenshot but promise, I was respectful. It just didn't show in this screenshot. Haha. Anyway, yes, Php3,190. That's how much I spent! And oh, the vendor also asked me to add Php250 for the box, tape, and labour charge to prepare the flowers for shipment. Still, even with the additional fee, you can see I have saved a lot just by opting to source my wedding flowers from Dangwa. 
So to ensure that the flowers remained fresh, I had the flowers packed the day before the wedding. The vendor confirmed that the flowers can be picked up at 12:30 noon and my best friend got them at 1:30PM. He paid on-site. I didn't have to send money to the vendor prior to the actual pickup. Iwas scam! 
How did the flowers look on my wedding day? 
I have to tell you that when the flowers arrived at around 4PM before the wedding day, some of the blooms looked dead! But I didn't worry because carnations don't wilt that easily. My sisters just had to put them in the water to make them alive again. 
Anyway, it was my sister She-She who made the bouquets and they look like this: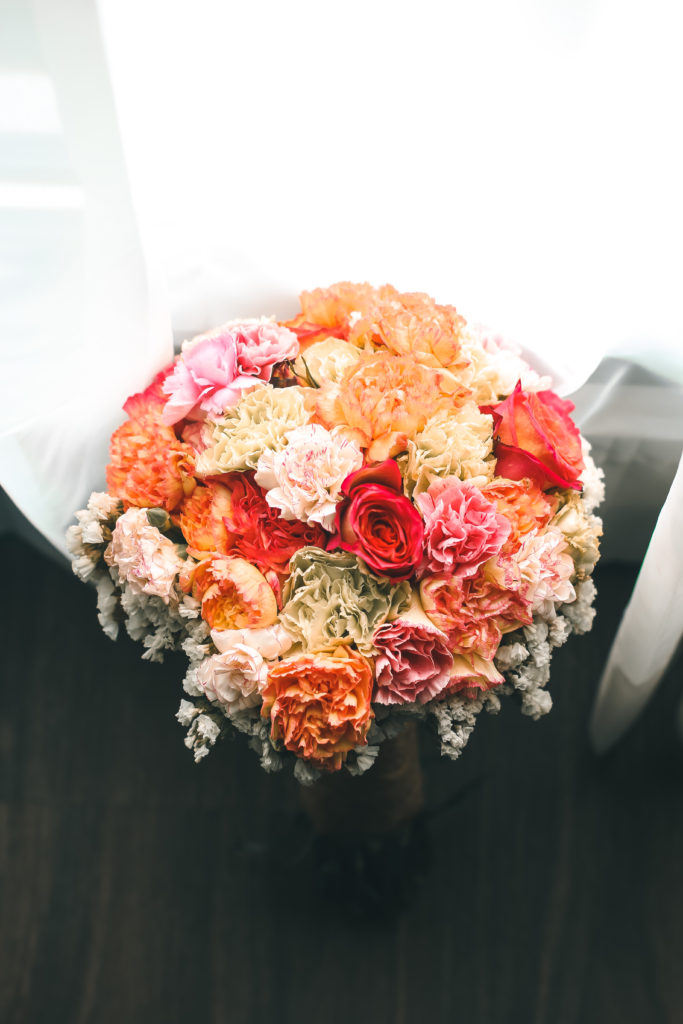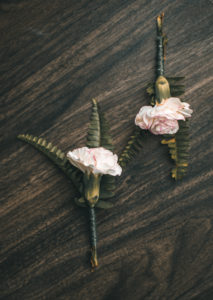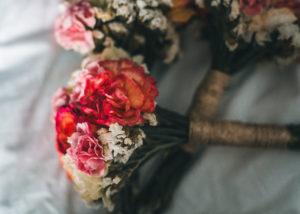 The flowers were also used for the reception at Seda hotel. The venue styling was done by my sisters, headed by Richdale, along with my talented friends from UP. Here's the look.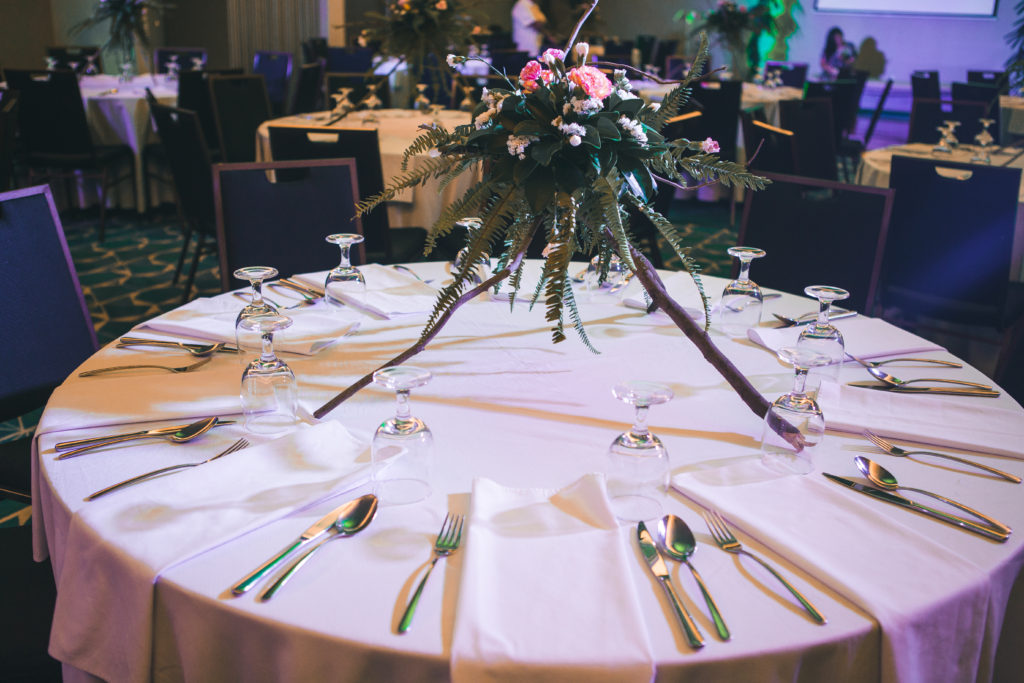 Weddings do not have to be expensive.
Well, I'll stop right there. Actually, preparing for a wedding is costly. As much as possible, if there are areas where you can bring the expenses down, be bold and make the move. Don't be pressured with the glamour that social media demands. It's your wedding after all. What matters in the end is the peace of mind knowing that you don't have a loan to pay off many years after that one special day. 😉
NOTE: My DIY wedding story does not end here. Watch out for my future posts about other elements where we saved on a lot … my wedding gown included. 
---